It is still dubbed as one of the greatest films ever made, Jean Vigo's 1934 quirky masterpiece L'Atalante has been fully restored to continue its reign as a unique cinematic gem.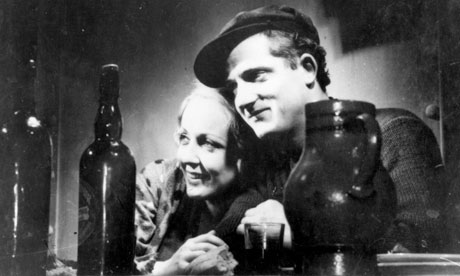 The BFI invites you to board L'Atalante, and join its newlywed inhabitants as it sails the waterways of France. Straight from the church, with their wedding crowd exchanging celebrations with farewells, Juliette (Dita Parlo) and Jean (Jean Dasté) embark on their new life on board the rickety barge.
Directed by the hugely influential Jean Vigo, despite only releasing four films in his lifetime, L'Atalante was his last and is still largely regarded as one of the greatest films ever made. Vigo is famed for his poetic portrayals, and L'Atalante showcases much of this through the surreal and dreamlike fantasies expressed by its characters. For a film from 1934, L'Atalante is very sensual, with subtly provocative scenes. Though remaining subtle, the relationship between Jean and Juliette is highly charged with eroticism, the emphasis of their love portrayed much more as a physical attraction rather than an emotional connection.
While things seem joyful when they board, Juliette soon starts to feel isolated as her initial hopes that the barge would be her chance to leave village life and see the world soon dissipate. She longs for exotic experiences and is excited about docking, to experience vibrant city life in Paris. Yet, Jean does not take pleasure in these curiosities. As the differences in the couple's opinions surface, they threaten to perturb their relationship and life on the barge is not as romantic as first thought.
Adding to the tension, the couple does not reside entirely alone, accompanied by the enigmatic bargeman, Père Jules (Michel Simon) and the young mischievous cabin boy (Louis Lefèbvre). Unexpectedly, it is Michel Simon's engrossing performance as the eccentric bargeman that steals the show. Meanwhile, Père Jules, an experienced traveler whose cabin is a disheveled mix of filth and unique collectibles from around the world, who goes from mindlessly drunk to enthusiastically playing accordion music, is completely captivating. His mysterious charm and oddly jester-like humour does much to add to the film's appeal.
The context of this renowned film, however, is tainted with tragedy, as Vigo sadly died soon after its release. During filming, Vigo was suffering greatly from tuberculosis, but he was so passionate and determined that he actually directed much of the film from a stretcher. It is with great sadness that he did not get to see his masterpiece receive its praise. The film itself suffered its own dilemmas, as it had been mutilated and severely edited by its many distributors, and it was not until 1989 when a copy of the full original version was found. The film's restorers insist that they have been 'as true as possible' to Vigo's original intentions, giving viewers the opportunity to do what Vigo himself couldn't: catch his masterpiece in all it's glory. Despite all the sadness surrounding L'Atalante's original composition and distribution, its survival story more than deserves its accolade; its a cinematic gem, and a must see.
Releases on 20th January 2012
This post was originally featured on http://www.thewhatwherewhen.org/events/latalante