Sacha Baron Cohen's latest parody comedy, The Dictator is slapstick at its finest.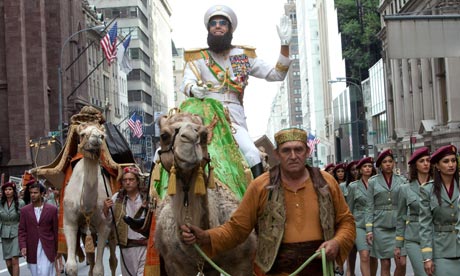 If there's one thing that this movie teaches you it's that dictators are very funny. They shouldn't be funny, but they are. Whilst actual dictatorships should not be taken lightly, as their leadership and reign is truly horrific and brutal, but dictators themselves are also hugely eccentric and radical characters, and it is this radical quality that opens up all their actions as a sense of ridicule. Sacha Baron Cohen's latest flick captures all that ridicule and turns it into 83minutes of grotesque comedy.
Playing General Aladeen of (fictional North African country) Wadiya, The Dictator sees Baron Cohen taking on yet another outrageous persona. However unlike his previous endeavours in Bruno and Borat where the characters were ambiguous to say the least, you always know what you're going to get from General Aladeen.
But even though it is a predictable and expectant formula, that is not say it isn't funny. As General Aladeen, Baron Cohen can get away with saying just about anything controversial, and yet surprisingly it's also done in a non-offensive way. Whether he is convincing America to become a dictatorship, or making sexist comments about women, the dialogue packs several punchlines that make any offensive remarks be washed over in laughter.
What adds to the humour is the choice of soundtrack. When General Aladeen comes to America to address the United Nations, he arrives with a large entourage of girls riding a camel through the streets of New York to the soundtrack of what appears to be the familiar sounds of Snoop Dogg and Dr. Dre's 'The Next Episode' only it is entirely in Arabic. The unexpectedness of this change adds to the humour. Scattered throughout the film are other unfamiliar familiarites such as REM's 'Everybody Hurts' and Marvin Gaye's classic 'Let's Get it On', trust me you have to hear it to believe it.
In light of recent events, The Dictator seems perfectly timed. Without Gaddaffi, Bin Laden and Idi Amin around, it seems that just the right amount of time has passed for the world to laugh at the eccentricities of these grotesque figures. It undermines those personalities and makes the whole idea of a 'dictator' seem trivial. Yes, it is purely slapstick comedy but the writing is hilarious and in movies like this, that is all that counts. Whilst Borat was funny because it was a new concept and overtly crude, The Dictator packs more actual jokes, which would even be funny without the outrageous persona. The Dictator can appeal to a much wider audience than Borat or Bruno, it's not just for the lads and teens, hence this might just be Sacha Baron Cohen's funniest movie yet. And let's face it, I don't think we're going to see another movie dedicated 'in loving memory of Kim Jong Il' anytime soon.